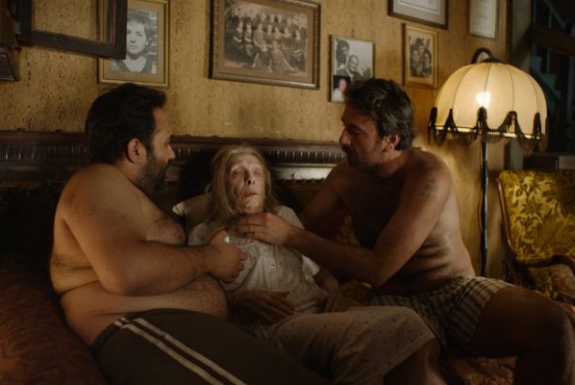 Godina na
majmunot/Year of the Monkey

TRAILER
För närvarande är inga visningar av denna film planerade.
BANEFF 2019
En film av Vladimir Blaževski
Land
Produktionsår
Längd
Genre
Språk
Textning

Macedonia, Slovenia
2018
110 min
Komedi
Makedonska, Kroatiska, Albanska, BulgariskaMakedonska...🔍
Engelska

The two main protagonists of this black comedy are Tsobe, a poor warden at the Skopje ZOO and the chimpanzee Coco, an inhabitant at the same ZOO. The simple story tangles up with Coco's escape from "captivity to freedom". Tsobe, because of the general economic crisis and poverty, gets fired from his job but he also receives a promise that he would be taken back to work if he manages to track down and bring back the fugitive.
Medverkande: Angelov, Marija Kohn, Reshit Behreda, Faik Mefailovski, Peter Elliot, och Cun Lajci.
Land
Produktionsår
Längd
Genre
Språk
Textning

Macedonia, Slovenia
2018
110 min
Komedi
Makedonska, Kroatiska, Albanska, BulgariskaMakedonska...🔍
Engelska

Skriv ut information om filmen