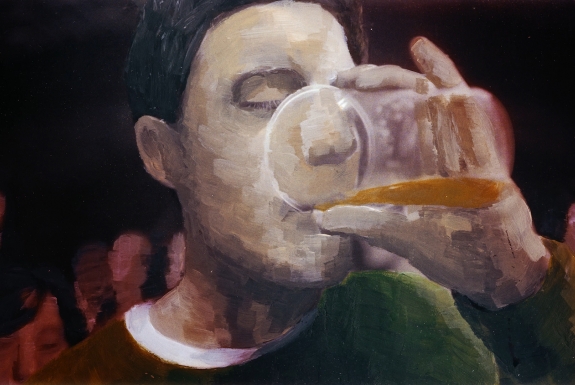 ◀︎ BLÄDDRA ▶︎
Kortfilmspaket:
Realities
För närvarande är inga visningar av denna film planerade.
REX AnimationsFestival 2019
Are you ready to face reality? Check out our selection of 6 animated documentary shorts on everything from crime and blurred lines between game and reality, to handling life without the ability to recognize anyone's face. Q&A with Frédéric Schuld (Carlotta's Face) and Lukáš Janičík (Apart) directly after the screening of Realities Saturday 02.11.19 17:30, Zita 2.
Apart by Diana Cam Van Nguyen, 10 min, Czech Republic, 2018 - GUEST Diana Cam Van Nguyen!
A layered animation technique slowly reveals three personal stories of grief. The young characters open up with calm, honest observations about the perspective-shifting experience of suddenly losing a parent.
Las del diente by Ana Pérez López, 5:28 min, Spain, 2018
Girls are weird. Babies are weird. Bodies are extra weird. Here, women are tired of choosing between having kids and their careers. Now anomalies in the reproductive system are celebrated instead of stigmatized.
Carlotta's Face by Valentin Riedl, Frédéric Schuld, 5 min, Germany, 2018 - GUEST Frédéric Schuld!
As a child, Carlotta didn't expect the people around her to have faces. She doesn't even recognize her own face. Years later, she learns about a rare, untreatable deficit of her brain. It was art, after all, that offered her a way to finally recognize herself.
Selfies by Claudius Gentinetta, 3:40 min, Switzerland, 2018
Digital self-portraits, hundreds of quaint, embarrassing and disturbing selfies, arranged in a short film composition.
Uncle Thomas: Accounting for the Days by Regina Pessoa, 13 min, Portugal, 2019
The film is a testament to the love for an eccentric, the object of artistic inspiration and key player in the director's becoming a filmmaker. A tribute to a poet of the everyday.

Swatted by Ismaël Joffroy Chandoutis, 21 min, France, 2018
Online players describe their struggles with "swatting", a life-threatening cyber-harassment phenomenon that looms over them whenever they play. The events take shape through youtube videos and wireframe images from a video game.
Skriv ut information om filmen