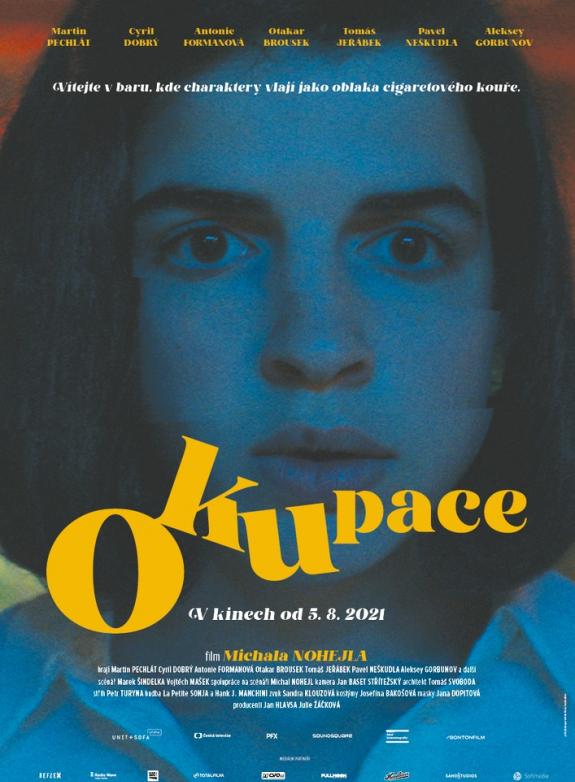 ◀︎ BLÄDDRA ▶︎
Occupation
TRAILER
För närvarande är inga visningar av denna film planerade.
European Film Festival
En film av Michal Nohejl
Originaltitel
Land
Produktionsår
Längd
Genre
Åldersgräns
Språk
Textning

Okupace
Tjeckien
2021
97 min
Komedi, Drama
Från 15 år
Tjeckiska, Ryska, Tyska
Engelska

One night, one bar. A sleepy actors' party is disrupted by an uninvited guest. A drunken Russian officer comes to sell a canister of gasoline, but the business transaction quickly turns into a vodka drinking race. The Russian, interested in the striking Milada and entertained by the comedic cowardice of all the men present, won't leave. The atmosphere thickends like the clouds of cigarette smoke and the Russian is having a grand old time. So grand that he pulls out a gun... The party, beating to the rhythm of the cosmically psychedelic music by Kill the Dandies!, spins out of control and the participants can't keep up. The game becomes a trap, heroes become cowards and cowards become heroes. There is only one way out of the occupied bar: a revolution! After tonight, no one will come out the same.
Medverkande: Otakar Brousek, Cyril Dobrý, Antonie Formanová, Aleksey Gorbunov, Tomáš Jeřábek, Martin Pechlát, Lucie Roznetínská, och Vlastimil Venclík.
Originaltitel
Land
Produktionsår
Längd
Genre
Åldersgräns
Språk
Textning

Okupace
Tjeckien
2021
97 min
Komedi, Drama
Från 15 år
Tjeckiska, Ryska, Tyska
Engelska

Skriv ut information om filmen
Filmen på IMDb